Even if Europe and the world has been hit by coronavirus people ar ehoping this will end soo so they can start planning their holidays. But where would they go. TheUnitimes have figured for you 10 incredible destinations to spend your holidays.
What Are You Looking For?
The Best Holiday Destinations for 2020
In this post, there are 10 incredible July holiday destinations that you should seriously consider visiting. You could be sunning yourself in Indonesia, marvelling at the never-ending days in Norway or adventuring around Mozambique!
Scroll down to your ideal destination to find out more information and see if it could work for your holiday in July. If you want complete inspiration, start from the beginning and of course let us know where you decide to go!
Don't forget that many schools are finished for the year around the world so if you do travel in July, it might be better to pick the beginning of the month if you aren't travelling with kids.
---
South Africa – The Crowded Planet
Last year we had the chance to road trip South Africa between April and July – each month had its benefits and drawbacks, but if we were to return, we'd choose July for sure!
First of all, it's the best time to see wildlife in Kruger and the other national parks as it is winter and water is usually scarce, so animals tend to congregate around water holes.
The weather was chilly, but not freezing, and it didn't stop us from surfing, hiking, kayaking and enjoying all the wonderful adventures that South Africa has to offer. Even Cape Town, notoriously cold in July, wasn't too bad!
But the best thing about visiting South Africa in July is that you'll find few tourists, leading to great deals on hotels, car hire and tourist activities. It's also a great time to see whales in the Western Cape – the whales come so close to the coast you can actually see them from the land!
If you want to get up close and personal to whales in South Africa, you can take a boat tour to try and spot  these beautiful creatures! You might also be treated to some other wildlife viewing too – dolphins and seals also live  here! 
---
Where To Stay In South Africa
Houtkapperspoort Country Cottages
Located in Cape Town:
Outdoor pool
Tennis court
Free WiFi
BBQ facilities
---
---
Mozambique – Roaming Fox
Although Mozambique on the east coast of Africa, is virtually a year-round destination, July is a great time to visit. South Africans love to travel to Mozambique during their school holidays, and this time is between two holidays, so the destination is perfect.
Although it is winter, it is still warm enough so you can relish the tropical climate, without being engulfed in too much humidity and heat. It is also a drier time of year and not cyclone season, which is up till March or April.
Because of the length of its coastline, you'll be spoilt for choice. From beach holidays to safaris, for adventure seekers as well as lazy beach bums – either way, you'll be seeped in culture.
Accommodation ranges from upmarket lodges and hotels to camping and backpackers, so there is something to suit everyone.
After a day of adventure, diving or swimming, who wouldn't want to indulge in coconut crab curries or grilled peri-peri chicken or prawns? To wash it down a 2M (beer) or two. If you want to be more adventurous you can partake in an R & R. It's a traditional rum and raspberry soda, but beware, it packs a punch!
---
Where To Stay In Mozambique
Liv Inn Guest House
Located in Maputo:
Outdoor pool
Complimentary breakfast
Free WiFi
BBQ facilities
---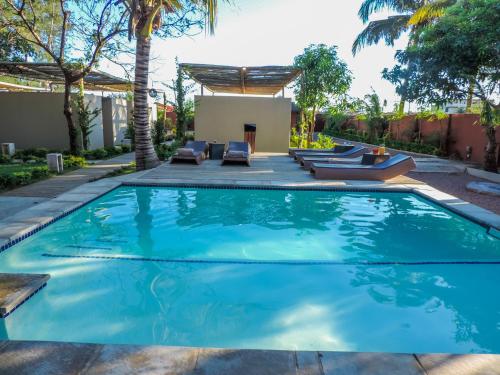 ---
Bali – Temples and Treehouses
The best time to visit Bali is between May and August. This is the dry season, when you're likely to get great weather and clear skies (July and August are the driest months). The Tegallalang rice terraces don't look quite as amazing in the rain!
July is also a great time for surfing. When I visited Bali, I really enjoyed staying in the laid-back beach area of Canggu, which is known as a famous surf spot. It has a healthy, hipster vibe and lots of great bars and restaurants.
Read More: A Perfect 7 Day Itinerary For Bali
July is also is when the annual Bali Kites Festival takes place, and when the Makepung Buffalo Races begin.
Be aware though that school holidays in July and August mean that Bali can become really crowded — so your best bet is to visit in early July before this beautiful island gets too overrun with tourists!
You'll never be bored in Bali because there are so many book fun activities and tours. Want to get awesome photos on an Instagram tour? Click here to save your space.
Feeling active and want the best sunrise views? Book your spot on an early morning mountain hike here.
Fancy learning some new culinary skills with a Balinese cooking class?
---
Where To Stay In Bali
Ryanbagus Guest House
Located in Canggu:
Outdoor pool
Garden area
Free WiFi
Laundry services
---
---
Glacier National Park, USA – Lets Travel Family
Glacier National Park is one of the most well-known National Parks in the United States. The glacial carved mountain peaks, famous Going-to-the-Sun road, abundance of wildlife, and cascading waterfalls are all worth a trip to the northern Montana park.
July is the best time of the year to visit if you hope to drive through Logan Pass, which is halfway through the Going-to-the-Sun road. The elevation is so high at the pass that snow often keeps the road closed well into June.
With temperatures averaging 26 degrees C (79 degrees F) in July at Glacier National Park, it allows for a very comfortable time to hike, bike, kayak, swim, or camp.  You can even white water raft down the river!
The sun is in abundance and encourages many people to spend time in, on, or around the glacial lakes and streams throughout the park.
Glacier National Park was one of our family's favourite destinations from our full-time travel in 2017 across the United States. I highly recommend making reservations early for July, as it is a busy time of year but totally worth the planning ahead factor.
---
Where To Stay In Glacier National Park
Glacier Outdoor Center
Located 1 mile from the west entrance of Glacier National Park:
Wheelchair  accessible
Bar on-site
Free WiFi
Tour desk
---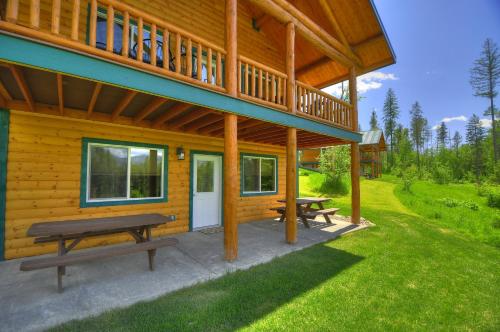 ---
Interlaken – Holidays to Europe
One of the best places to spend your holidays in July is the Swiss town of Interlaken, around an hour from both the capital Bern, and Lucerne.
With its location at the foot of the Eiger, Jungfrau and Monch mountains, Interlaken is a great base for enjoying the many alpine excursions available in the region, but there are plenty of things to do in town, too.
Known as the adventure capital of Switzerland, Interlaken attracts adrenaline seekers who visit for paragliding, white water rafting and canyoning. Browse the top adventures here!
If you're not into adrenaline sports, don't worry. Interlaken offers plenty of less adventurous, but just as enjoyable, things to do. Lake cruises, a funicular ride to Harder Kulm, horse-drawn tram rides and shopping are just some of the ways you can spend your time.
Interlaken is the main starting point for day trips on the famous train trip to Jungfraujoch. The scenic journey takes passengers to Europe's highest railway station.
Summer activities at Jungfraujoch include snow tubing, sledding and a zipline, and there are fabulous panoramic views of the Swiss alps year-round. Click here on more information on how to book a day trip to Jungfraujoch!
If you travel in July, you're likely to enjoy fine, sunny days in Interlaken – just perfect for exploring the town and the surrounding snow-capped mountain peaks.
---
Where To Stay In Interlaken
Edelweiss Lodge
Located in Wilderswil:
Breakfast included
Bar on-site
Free WiFi
Ski rental available
---
---
Kodaikanal, India – The Winged Fork
Nestled in the Palani Hills in South India, Kodaikanal is the perfect refuge from the heat in other parts of India. Its name in Tamil means 'gift of the forest'.
Replete with lush forests and lakes – namely the Berijam Lake and the famous man made Kodaikanal Lake, it's a good place to get away from the busyness of city life. And in the monsoon, the mist in the air adds a lovely mystical touch; while in some parts of hills you can actually touch the clouds.
Leaving aside the town centre which is a bit crowded with tourists and markets, the rest of Kodaikanal is perfect for cycling, boating, trekking, hiking or just plain old rest and relaxation.
There's more to explore in Coaker's Walk, Bryant Park and the neighbouring pine forests which are often featured in Indian movies – you know the ones, with the man and woman running around trees singing about their love!
The Berijam Lake area though can only be visited with a forest guard – since some of the mushrooms have a hallucinogenic effect when consumed – as does some of the fragrance given off by the trees in Berijam Forest. The Berijam forest is good for spotting bison, deer, panthers and snakes.
Being part of the wider Kodaikanal Wildlife Sanctuary, you might just run into bison roaming free like we did. Don't run, walk away!
---
Where To Stay In Kodaikanal
Kodai Resort Hotel
Located in the city centre:
Breakfast included
Spa and massage services
Free WiFi
Fitness centre
---
---
Norway – It's Not About The Miles
Norway is gorgeous any time of the year, but it is especially appealing as a summer travel destination. Taking your holidays in July here is perfect, despite the possibility of crowds at tourist hotspots.
Why July?
Well, for one thing, the weather in July is wonderful. In a country where it's common to have snow on the ground into June, the window to walk around without boots and multiple layers is tiny.
If you visit in July, you can attempt hikes to hilltops in relative comfort. The iconic Trolltunga hike is only recommended in the summer, so if you're up for it, July is a great time to do it. Also, you can enjoy cruising the stunning fjords without wind chill to worry about.
I love the long daylight hours in July. If you go far enough north in Norway in the summer, the sun never sets! To celebrate the long days, Norway hosts special events, such as late night concerts at the Arctic Cathedral in Tromso.
Try something new whilst you're here too. Have you ever hand fed reindeer? Visit a farm and learn about the local Sami culture. Click here for more information.
Chase the Northern Lights (enjoy a hot chocolate and cookies whilst you're trying to spot the aurora!) or explore the famous ice domes in Tromsø.
I recommend going north and off the beaten track to Finnmark County, to explore Seiland National Park, with its fjords and glaciers, and wildlife, including herds of reindeer and the endangered Arctic fox.
Whilst here travelling in July, you can also enjoy the famous Riddu Riddu festival of folk arts!
---
Where To Stay In Norway
Scandic Grand Tromsø
Located in the city centre:
Breakfast included
Bar and restaurant on-site
Free WiFi
Fitness centre
---
---
Ghent – Aleen Op Reis
Living in the Netherlands I often spend a weekend in the beautiful Flanders, the Dutch speaking part of Belgium. It takes me less than an hour to get there but the atmosphere is completely different, I would say it's a bit friendlier and more relaxed than the Netherlands.
Since the climate in both countries unfortunately is quite comparable (pretty grey and rainy most part of the year) I would definitely recommend you to visit Flanders in summer.
My favourite city in Flanders is Ghent. It's an absolutely stunning city and it's less crowded than nearby Bruges, but at least as picturesque.
The old centre is nice and compact and full of historic buildings, cosy squares and nice restaurants. Take a relaxed guided boat tour through the city and enjoy soaking up its history! Click here for more information and prices.
July would be the perfect time to visit because during two weeks in July the biggest festival of Ghent, named the 'Gentse Feesten', takes place. This festival is an outdoor music and theatre festival for people of all ages and dates back to 1843. Everyone in Ghent will be partying all night long!
---
Where To Stay In Ghent
Ibis Gent Centrum St Baafs Kathedraal
Located in the city centre:
Games room
Bar and restaurant on-site
Free WiFi
Laundry services
---
---
Barcelona – Traveling German
Barcelona is a great city to explore on your holidays in July. It's usually reliably sunny for the majority of the month, the sea is warm, and it's not quite as busy as in August.
In addition to everything Barcelona has to offer all year round, there are a ton of "bonus" things to do in Barcelona in the summer, and the city puts on an amazing show during July: free concerts in parks throughout the city and the Sala Montjuic open air cinema make for great evening entertainment, especially when accompanied by some Spanish wine and a picnic.
Plan ahead with your day-to-day activities to avoid any crowds. If you are thinking of visiting the Sagrada Familia (and you should!) then reserve your ticket in advance and get priority access.
And all summer long, local neighbourhoods shine during their week-long street festivals with decorated streets, concerts of local bands and lots of good local and international food. In July, the Poble Sec festival is one of the most popular ones.
If it does get too crowded for you – the beach is admittedly quite busy already from June onwards – it is incredibly easy to get to some stunning beach destinations for a day trip.
Check out Sitges or Castelldefels for a day trip, or Begur or Cadaqués if you have a bit more time for an overnight trip.
If you want to get around the city easily, then consider buying this highly reviews public transport ticket that can last you up to 120 hours (depending on which type you choose). It allows you access to the metro, buses, trains and trams all across Barcelona.
---
Where To Stay In Barcelona
Hotel Aranea
Located in the city centre:
Solarium
Bar and restaurant on-site
Free WiFi
Laundry services
---
---
Rhodes Island- Luxury destinations
Rhodes, the largest of Greece's Dodecanese islands, is known for its beach resorts, ancient ruins and remnants of its occupation by the Knights of St. John during the Crusades. The city of Rhodes has an Old Town featuring the medieval Street of the Knights and the castlelike Palace of the Grand Masters. Captured by the Ottomans and then held by the Italians, the palace is now a history museum.
---
Where To Stay In Rhodes
Alia Luxury suites haraki rhodes
Located on the south east side of the island
Bicycle rental
Free WiFi
Laundry services
Private pools
Honeymoon perfect
---