There are many cuisines worldwide, Greek, Mexican, Italian, Asian, Caribbean, and many others but the queen of all is the French Cuisine. Some of the best schools and chefs in the world are located in the heart of culinary arts Paris.
There is no culinary school in the world who will not be teaching the french cuisine and french techniques to its students. Not only this but the brand name for culinary around France is so big that many schools regardless of their connection to France and location choose to name their schools with a french name to give higher prestige. Over the years all the cuisines around the world have been modernized and put a lot of the french elements in their cooking to upgrade their style, taste and look.  French culinary terminology for the cooking world is like the Greek terminology for science they are everywhere. French cooking can easily be seen as being one of the best cuisines in the world. It's traditional, yet modern and is bold in its culinary experiments. It doesn't waste food, but rather comes up with new recipes to incorporate old ingredients.
Well does it mean that everybody will like French cuisine? The answer is obvious and it is a no but the idea of the French culinary arts is that they are art, they are the base of everything. You can not know the consomme, au gratin, ala carte, bisque, canape and so on. As every cuisine had its ups and downs the french cuisine faced a small crisis in early 2000 which was fast overcome and back to track again.
So which are the best culinary schools in Paris?
École de Cuisine Alain Ducasse
"We must open our doors to all cooking enthusiasts and let them get to know, try and understand where the delicious food served to them comes from", explains Alain Ducasse. In a beautiful private townhouse, near Passy, with wine cellar, boutique, Miele and Perene state-of-the-art equipped kitchens and sunny patio, ECAD offers courses for the whole family, there's even classes for families to cook together. Other programs include Teens in the Kitchen. First Cookery Lessons. Cooking for an Event & Do It Like A Chef classes to perfect knowledge and techniques. In a brand new space, discover Alain Ducasse Cooking School at the BHV Marais; located on the 3rd floor of the Groupe Galerie Lafayette owned department store, accommodating up to 10 students.
Closed August 3-25. Average fee from 90€. 64 rue Ranelagh, 75016. Tel:+ 33 1 44 90 91 00. Another location at BHV Marais, 52 rue de Rivoli, 75004.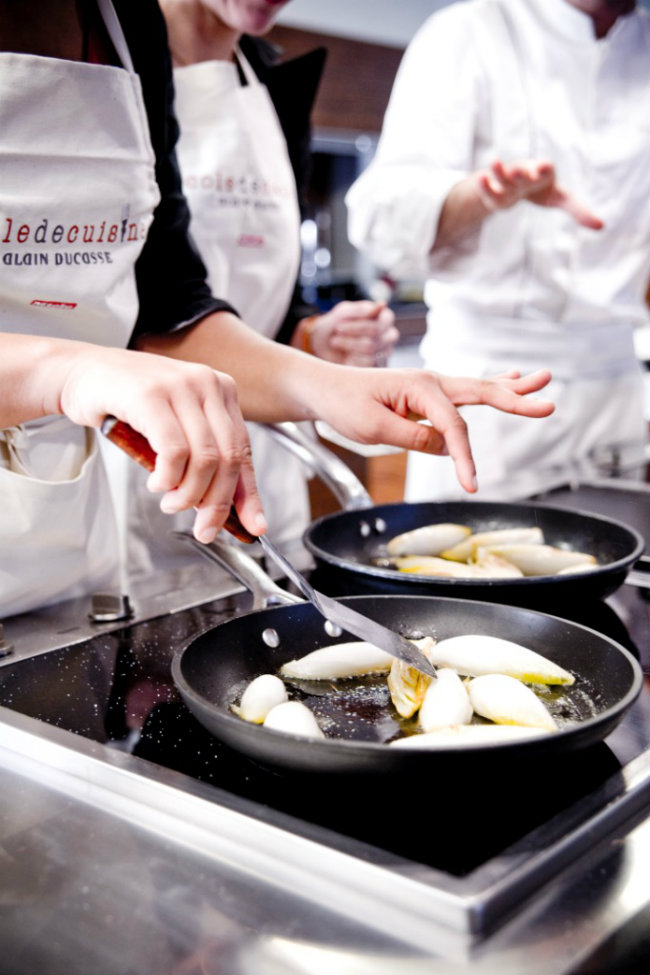 Created in 1895, this prestigious culinary school now offers a network of 50 schools on five continents enrolling 20,000 students annually. Each school offers its own list of culinary short courses and demonstrations; find your level via 1, 2, or 3 mushrooms beside each option. Paris options include: Cooking for Friends; Food & Wine Pairings; Vegetarian; Traditional Bread/Pastry & Baking; French Regional Cuisine; Sancerre vineyard visits; Classic and Modern sauces; Christmas Yule Logs, etc. Most classes/demonstrations include English translations. Workshops are planned to give students as much exposure as possible to the working environment of a professional kitchen, all necessary ingredients and equipment are provided, including aprons and tea towels. This month Cordon Bleu President André Cointreau announced the opening of a brand new school at 13 Quai Andé Citroën in the 15th arrondissement, opening in 2016.
Open August. Demonstrations 45€, 1-day (6-hour) course 199€. 8 rue Léon Delhomme, 75015. Tel: + 33 1 85 65 15 00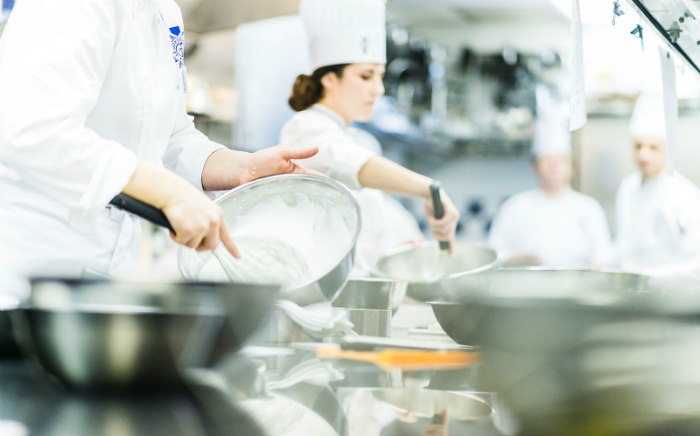 "We're working on our schedule for 2017," says Ms Wells, journalist, award-winning cookbook author and teacher, who divides her time between Paris and Provence. There's room for 7 students in her Left Bank kitchen, a former artist's studio. Courses, which take place in the Spring, may include visits to local markets, cheese, wine and olive oil tastings and round table demonstrations on, say, the art of knife sharpening. The week-long program, in English, offers four cooking classes followed by a meal around the atelier table that includes plenty of lively discussion.
Go to: http://www.patriciawells.com/sample-schedule-paris to tap into the zeitgeist.
10 rue Jacob, 75007.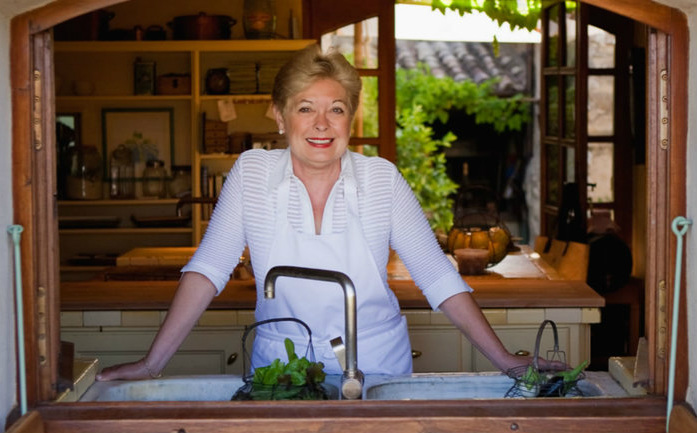 Located in a magnificent, three-story townhouse near the Champs Elysées, with a chic canteen, a library, and a boutique, L'Atelier ticks all the boxes. Who wouldn't want to cook like superchef Guy Martin? (He holds two Michelin stars at the historic Grand Véfour restaurant in central Paris.) Lessons are held in the ground floor steel and glass kitchen, followed by tastings. Except for pâtisserie classes, in which students may take home the treats. Themes include "Grand Vefour" (200€), "Parents/Children" (40€), "Pâtisserie, Macarons etc." (80€) and "Two Hours in the kitchen" (100€). And, yes, Guy Martin will give you a private lesson (price on application). English speaking.
Closed from August 3-24.  35-37 rue Miromesnil, 75008. Tel: + 33 1 42 66 33 33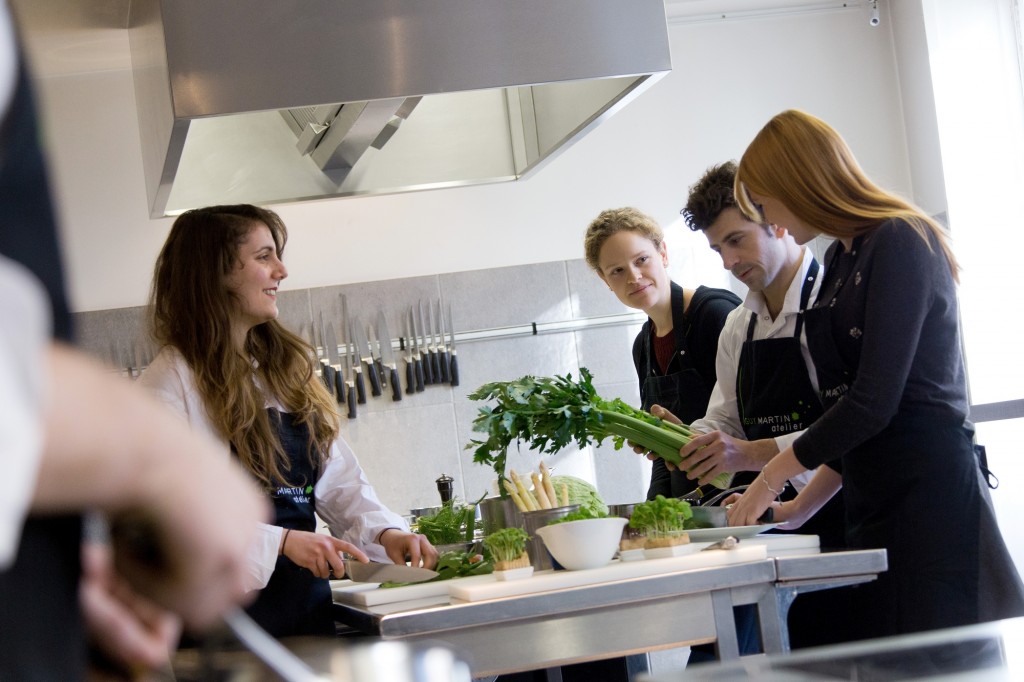 Established by the late Gaston Lenôtre, this culinary school boasts a star-studded cast of professionals such as ex-Ritz chef Michel Roth, Sommelier, Oliver Poussier and Guy Krenzer (Double MOF – Meilleur Ouvrier de France). Locations include the beautiful 1900s Pavillon Lenôtre off the Champs Elysées; Vincennes (open August on Friday, Saturday, Sundays); and Parly 2. The atmosphere is friendly and courses cover everything from techniques for cooking fish, secrets of bistro favorites, festive verrines, and Lenôtre's famous classics. For the full program go to: http://lenotrewebprod.blob.core.windows.net/mediacms/Calendrier_des_ateliers_Lenotre.pdf
Average fee is 29-450€. English spoken. Closed from July 30-August 25.
Pavillon Elysées-Lenôtre, 75008. Tel: + 33 1 30 81 44 96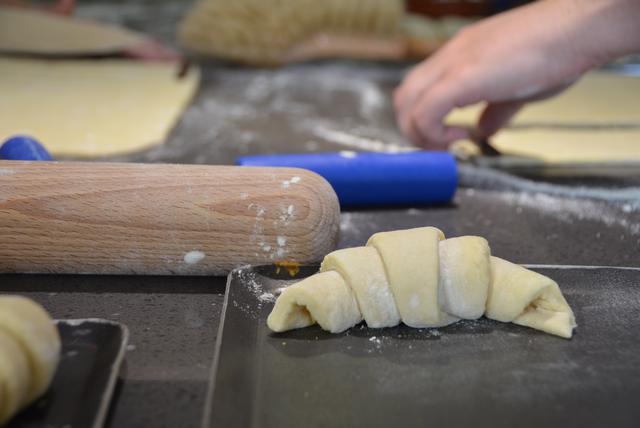 La Cuisine Paris doesn't just offer fabulous cooking classes; they also offer food tours throughout the city. The Marais Soirée is a delicious three-hour tour of the Marais district. Or book Bellies on Foot, a food- and history-filled adventure through Les Halles area. Pastry fanatics should consider the Sugar Rush Tour, and for Wine and Cheese lovers, there's the Fromage and Wine Discovery. Add the French Market Cooking Class at Le Marché des Enfants Rouge, or a trip to Versailles. Of the top-notch cooking classes, macaron making is a favourite, so are the classes on brioche and the French baguette. After preparation, enjoy the fruit of your labour with a few glasses of white wine. For the dessert classes, students are welcome to eat on site, but La Cuisine provide boxes for you to take away and show off your hard work.
English spoken. From 65-95€. Closed August 10-18. 80, Quai de l'Hôtel de Ville, 75004. Tel: + 33 1 40 51 78 18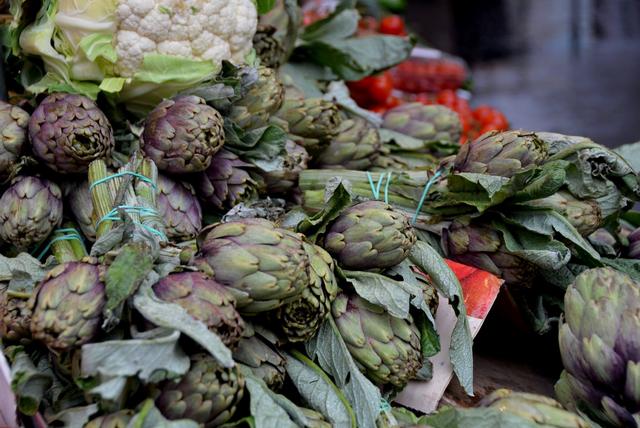 This Meilleur Ouvrier de France (MOF) has worked with the greats (Le Royal Monceau, Lucas Carton, Le Crillon) but he loves to teach, share, pass on his knowledge. His kitchen is near the picturesque Place des Vosges in the heart of the Marais. The team are most welcoming and will plan courses, in English, to suit you; call them to discuss. Buy products at the nearby Marché des Enfants-Rouges and then transform them into a delicious three course meal; pop in for a Saturday morning brunch; there are so many possibilities that take place around chef Martial's wide wooden table. "Change the world while eating a delicious dish," is his mantra. Officially, the kitchen closes in August, but Chef Martial arranges courses on request as the office stays open. "The world is your lobster!" he says.
Average fee 80€. 80 rue des Tournelles, 75003. Tel: + 33 1 44 54 02 18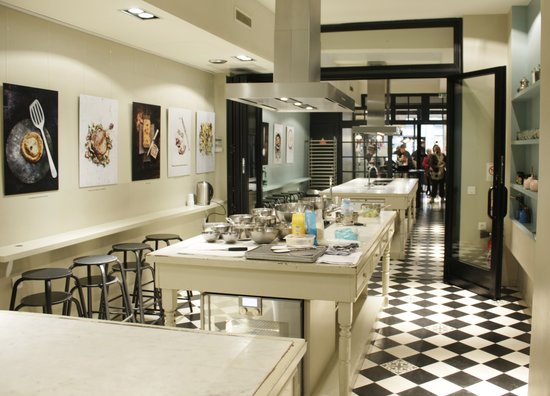 Choose from three locations in Paris: Atelier Bastille, in the 11th arrondissement, in a former artist's studio. Atelier Beaubourg (3rd arrondissement) next to Les Halles, the former marketplace once referred to as the "Belly of Paris." The atelier is situated in an industrial designer gallery space divided into two levels. And Atelier Haussmann near Galeries Lafayette, at the back of the L'Atelier des Sens boutique, which offers cookery books, kitchen equipment, and supplies. The three-hour Best of French Pâtisserie class (Paris-Brest, Mille-Feuille, Chocolate Eclairs) costs 120€. Other classes from about 92€. Open August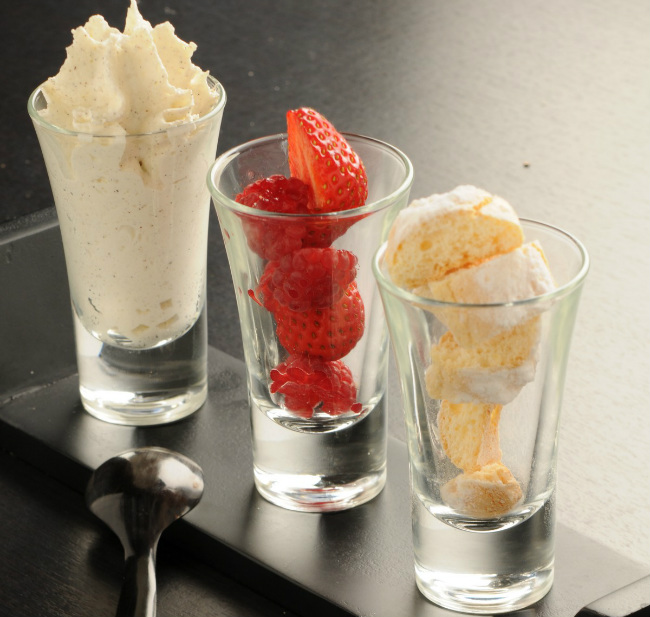 This is a really cool space in the trendy 10th arrondissement, located in a former pottery studio dating from the 19th century. Situated on two levels, the Purgatoire-54 is devoted to art and cooking. There's a warm welcome from the talented chef Alain Cirelli (who's worked at prestigious posts at Lasserre, Michel Guerard, Alain Dutournier etc). Classes are in French but "most of our chefs speak English and really it's the gestures you're learning," says chef Cirelli. "It's important that students leave time (about 40 minutes) to relax and eat after the course, you can take a 2 hour or 3 hour lesson," he says. As well as contemporary exhibitions mixing art and cuisine, there are courses in mixology.
Closed August 1- 24. Average fee 65€. 24 rue Condorcet, 75009. Tel: + 33 1 48 78 77 13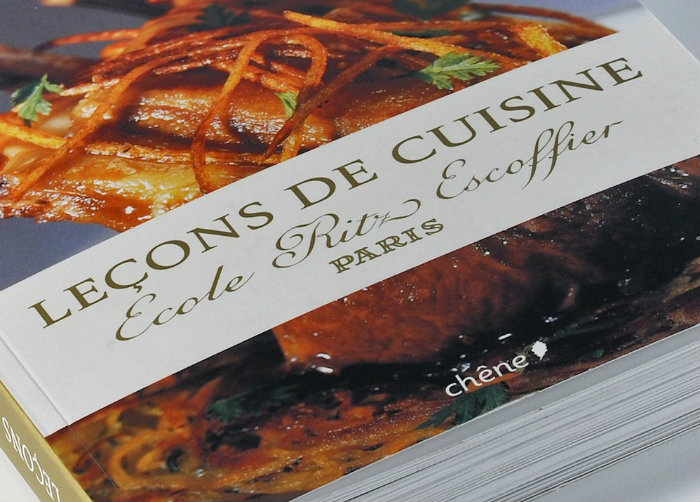 Created by chef Olivier Berté, this cooking workshop takes place in a beautiful hôtel particulier. Groups are limited to eight people and menus are themed by season, with market visits, pastry workshops, etc. Learn how to construct a full dinner– with starter, main and desert– and then eat it with the chef, washed down with lots of wine! Want to learn the mysteries of molecular cuisine? It's here. If you love cooking and traveling, chef Berté also organizes unique three-day trips for up to 10, to, say, Krakow, Poland, with visits to the market, restaurants, Chopin's house etc. Contact the office for details or e-mail: olivier.berte@coursdecuisineparis.com
English spoken. Closed July 31-beginning September. Average fee from 100€ for the three hour course which includes lunch/dinner/wine. 7 rue Paul Lelong, 75002. Tel: + 33 1 40 26 1400
And don't forget The Ritz-Escoffier school when it re-opens in 2016!